When you plan your assemblies, you want to make sure that you have the proper influence on your students. They must learn from the assembly, but you want them to be motivated to "change". Not only just their own personal lives and goals but to be able to change their environment. Youth motivational speakers can be a very important influence for your students because of their experiences and the message they bring.
They can be encouraging and motivate your students to seek out the most important goals for their own lives while challenging them to make their school environment better for all concerned.

Youth Motivational Speakers Can Change the Atmosphere of your School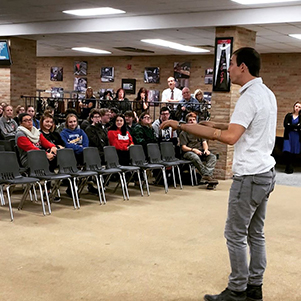 Brad Hurtig is one of those youth motivational speakers that have the ability to "change" the atmosphere of your school and the student body. He knows and understands the challenges that your students face from day to day. His willingness to share personal experience will open a new avenue of learning and bring an encouraging word to those who are struggling.
As a youth motivational speaker, Brad will reach out to the students through personal testimonies of his struggles and how he was able to overcome the challenges he faced. He will highly motivate your students to learn and understand how to search for new goals, to become a better person for the future.
Brad HurtigBrad Hurtig is a youth motivational speaker that makes a difference in the lives of those who hear his message. Through his life experiences and the tragedies that he has faced, his message comes alive for both students and staff. To learn more about how Brad can help reach your students with this powerful message, please contact us today and someone from our staff will get back to you as quickly as possible! Brad Hurtig is proud to be a member of the Relevant Speakers Network!