Your students have many different challenges they face from day to day. Many of these challenges go unnoticed or unidentified. A youth motivational speaker can address these issues with your students and make a difference in how they look at their lives and their futures. Your students deserve an opportunity to make a difference in the lives of their peers and families.
How Will a Youth Motivational Speaker Help Your Students?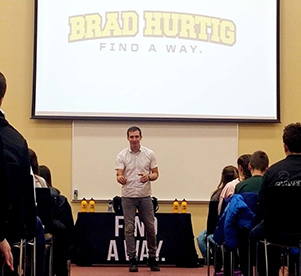 A youth motivational speaker has the ability to address these issues while challenging your students to re-evaluate their goals in life. They will realize that each of them "can" make a difference, and they will be encouraged to accept what they cannot change, but to excel in those opportunities that they are able to change to meet their goals successfully.
Each youth motivational speaker has his or her own unique life experiences that bring different skills, giving them the message your students need to hear. Students are more willing to listen to these messages and are highly motivated and energized to meet the challenges they face.
A Youth Motivational Speaker Will Provide New Strategies for Your Students
Brad Hurtig is a youth motivational speaker that makes a difference in the lives of those who hear his message. Through his life experiences and the tragedies that he has faced, his message comes alive for both students and staff. He is able to challenge students with the confidence they need to make the right choices.
Brad Hurtig demonstrates to students that every individual can do extraordinary things. His message will bring your students to an understanding of just how important they are to their families and friends, and give them opportunities to make the changes that will influence their future. To learn more about Brad or book him for your next assembly, please contact us today! Brad Hurtig is proud to be a member of the Relevant Speakers Network!