Many young people dream of starting a successful business when they grow up. Others want to become one of the country's next major sports stars. Inspirational speeches for students can help them to turn those dreams into reality!
How can these talks have such a significant impact on the lives of America's young people? Well, it's simple, really. Inspirational speeches for students can provide kids with the tools they need to achieve just about anything they set their minds to.
For starters, motivational talks can give kids the drive to continue working toward their goals, even when they face seemingly insurmountable obstacles. This determination and grit can prove to be the difference between leading their team to victory in the big game or giving up as soon as they begin to fall behind.
Of course, inspirational speeches can also teach young people how to think critically and logically about the challenges that they face every day. In doing so, it can help them to overcome difficult situations and keep moving toward their dreams.
Inspirational Speeches for Students - How to Find the Right Presenter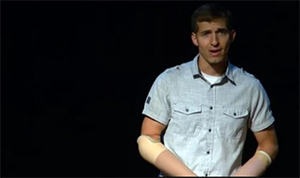 Now that you understand the importance of inspirational speeches for students, you must next figure out where to find the right presenter. If you want your students to be attentive and engaged throughout the talk, you will need to hire someone who is relatable and who understands what it is like to overcome adversity in life.
Fortunately, you won't have to search very hard to find the perfect person for the job. Since overcoming the loss of both of his hands in an accident, Brad Hurtig has spent years spreading his message of positivity and determination to students across the United States. If you would like to bring him to your school, just give us a call at (513) 675-9089 or send us a message online. Brad Hurtig is proud to be a member of the Relevant Speakers Network!