When thinking to yourself, "should we hire youth motivational speakers?" there is a question that you need to ask yourself first. What is the outcome you are looking for in having a speaker come to your school? There are many different reasons that a school may bring in youth motivational speakers.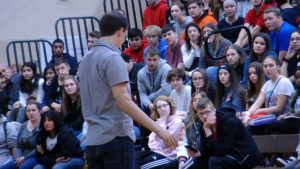 Motivational speakers can meet a wide range of needs for your school. It could be that you want a speaker to motivate your students to work harder and apply themselves, or maybe you want to teach your students how to manage the stress and challenges of life. Whatever the need, it's important to find youth motivational speakers that are able to connect with your students and deliver a message that will stick with them forever.
The Best Youth Motivational Speakers for You
Once you've decided to hire a speaker, how do you know who to choose? There are a lot of good youth motivational speakers out there, but you want to find someone that is truly great. Brad Hurtig is a youth motivational speaker that has an inspiring story and a powerful message to share with your students. His goal is to encourage students to dream big, empower them to meet their goals, and give them the tools to find a way. When it comes to challenging students to be the best version of themselves, Brad knows what he's doing. You don't have to just take our word for it, here is what one student said after hearing Brad speak at their school – "You make me want to try harder and be the best I can be. Thank you again. You turned my life around just by your words. I hope to see you again one day!" There are plenty more reviews like this from students, teachers, and administrators. If you want to learn more about how Brad Hurtig can make a change at your school, please contact us today. Brad Hurtig is proud to be a member of the Relevant Speakers Network!