As a youth motivational speaker, Brad knows that the teenage years can be some of the best of your life, but they can also be some of the hardest. Teens are often faced with tough situations and struggle to make smart decisions. Brad is no stranger to tough choices. When faced with a life-altering accident, he had to decide whether to let it define him or to overcome it. I'm sure you can guess which one he picked. While we all know that we can't make decisions for our kids, what we can do is give them the guidance towards making ones that will positively impact their future.
How a Youth Motivational Speaker Makes Choices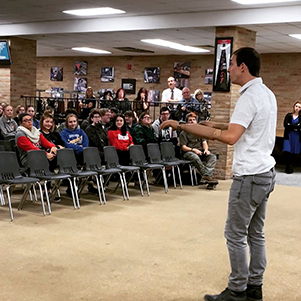 Making positive choices is an important responsibility for a youth motivational speaker. One way to handle making big decisions is by laying out your choices and listing the pros and cons. This can be a great tool for those who are visual learners and need to see the information in front of their eyes. Problem-solving is another important skill in life. Teenagers often have a habit of ignoring their problems, but Brad wants to encourage your students to find solutions. We all like to be given options in life. Giving your teens options with the small things can be a great way to help them practice making safe decisions in the big things.
Let a Youth Motivational Speaker Help Your Students
Brad Hurtig has firsthand experience of having to make tough choices. He chose to persevere even when he had every reason to give up. Brad wants to encourage your students to do the same. Brad learned a powerful strategy to overcome his fears to accomplish his goals, and he wants to teach your students to do the same. To teach your students the value of positive choices through speaker Brad Hurtig, please contact us today. Brad Hurtig is proud to be a member of the Relevant Speakers Network!