Your teenage years are no easy feat. They can be full of uncertainty, change, and all kinds of ups and downs. Not to mention there may be a shortage of motivation to go around. That's why a youth motivational speaker is exactly what a teenager needs in their lives. With someone to guide them and lead them through life, they'll find themselves heading towards success.
You may have noticed that many teenagers may find themselves feeling unmotivated and questioning their future. Especially those who are getting ready to graduate high school and move on to the real world. But with the help of someone like Brad Hurtig, they could find the inspiration they need to keep moving forward.
How a Youth Motivational Speaker Can Help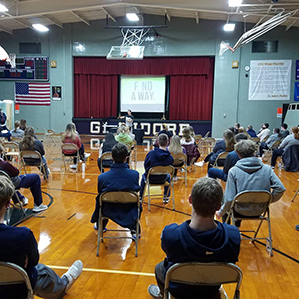 Brad Hurtig defied all odds and led his football team to victory despite having no hands. As a result, he became a source of inspiration for many. To this day, he continues to inspire those around him. If your students are lacking motivation or a sense of purpose, a chat with Brad will help turn them around.
Brad has toured the country and visited several high schools to give students the sense of purpose he once lacked himself. With his help, your student body will feel ready to take on whatever challenges come their way.
Motivation Can Be Life-Changing
Looking back on your high school years, don't you wish you had someone there pushing you to make better choices and helping you overcome your fears? Although you can't go back in time, you can help mold the future of your students.
Reach out to us today to book Brad and have him and his motivational speaking touch the lives of your students in a positive manner. Brad is proud to be a member of the Relevant Speaker Network!