Helping students become the best possible versions of themselves is the primary goal of just about every teacher, principal, and school administrator in the United States. Though there are multiple ways to accomplish this goal, many have found that enlisting the help of an experienced motivational speaker is the most effective method. Their inspirational speeches for students can have a profound impact on the lives of everyone who hears them.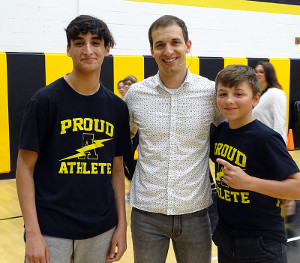 The first change educators will notice after a motivational speaker works with their students is a boost in morale. That's because presenters spend a great deal of time helping their assembly attendees develop a more positive outlook on life. Once the pupils return to the classroom, this positivity makes itself known in the form of increased participation and improved test scores.
Of course, inspirational speeches for students don't just help young people to become more positive. These speeches can also provide them with new perspectives and methods of dealing with the challenges that they face. When pupils return from motivational speeches, teachers often find that they are much more willing to tackle their problems head-on, rather than just getting frustrated and giving up.
Inspirational Speeches for Students: Finding the Right Presenter
Inspirational speeches for students can only be as effective as the person who is delivering them. If you want your pupils to enjoy the full benefit of the presentation, you will need to hire a speaker who is relatable, enthusiastic, and authentic.
Fortunately, you won't have to look very hard to find someone who fits that bill. Brad Hurtig has all of these qualities and more! If you would like to have Brad come to your school and work with your students, all you need to do is shoot us a quick message. We will get back to you to confirm the details as soon as we can. Brad Hurtig is proud to be a member of the Relevant Speakers Network!